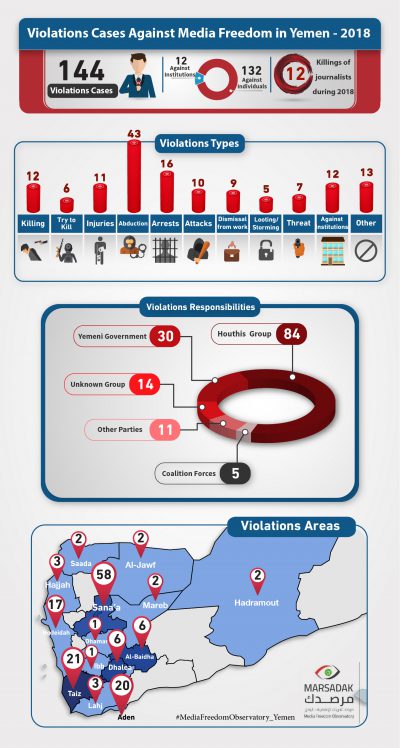 The Yemeni Media Freedom Observatory recorded 144 violations of media freedom in Yemen in 2018, including 12 cases of killings. Numerous forms of violations were perpetrated including murder, injury, kidnapping, assaults and targeting media organizations.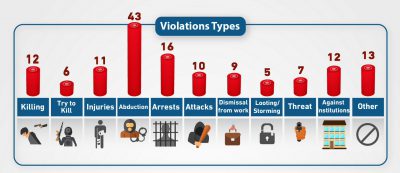 According to the Observatory, in addition to the 12 cases of murder, there were 43 cases of kidnapping and attempted kidnapping, 11 injury cases, 6 attempted murders, 16 arrests, 10 assaults, 9 dismissals from work, 7 threats, 5 incursions and looting of journalist lodgings, 12 violations against media institutions, and 13 other violations.
The Observatory pointed out that in light of the increasing violations perpetrated to varying degrees against journalists by all parties in Yemen, a dangerous environment for journalists was created in Yemen, hindering journalists from reporting events in Yemen freely.
According to the Observatory, "The position of journalists has become very frightening. Forty two journalists and media activists have been killed since 2014, in addition to kidnapping of more than 400 journalists, some of whom are still in Houthi and Qaeda prisons. Some of them have been kidnapped for more than three years during which they were subjected to forced disappearances, torture and trial before the Specialized Criminal Court- an illegal court – on charges punishable by death due to their views and writings. Violations of media freedom continue unabated in areas under the control of the internationally recognized government of Yemen, where one journalist is still being held.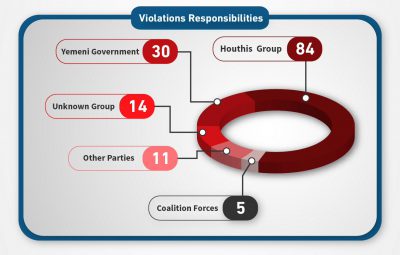 Al-Houthi Group heads the list of perpetrators of violations against journalists in Yemen, claiming 84 violations of the total cases recorded. Other 30 cases of violation were perpetrated by Yemeni government parties, 14 violations by unidentified individuals, 5 by the Saudi-led Arab coalition forces, and 11 by other parties.
In its annual report "Violations of Media Freedom in Yemen," the Observatory noted that 12 media organizations were subjected to various forms of violations, including closure, shelling, storming and various assaults. The storming and burning of the Al-Shomou' Press in Aden and the Arab Coalition bombing of Hodeida Radio Station in Bagel were the most prominent examples of such violations.
The Observatory calls on all parties in Yemen to stop arbitrary restrictions on journalists and freedom of expression. It calls on all international and human rights organizations to intensify their solidarity efforts and press for the speedy release of kidnapped journalists.
It may be mentioned that 20 journalists are still detained by Al-Houthi Group, the Aden-based government and Al-Qaeda. Al-Houthi Group refuses to release 18 journalists from its prisons, some of whom have been detained for more than three years. Journalists detained by the Houthis are Abdulkhalek Imran, Tawfiq Al Mansouri, Harith Hameed, Hisham Tarmoum, Hisham Al-Yousofi, Akram Al-Walidi Issam Bilghith, Hassan Annab, and Haitham Al Shehab, Waheed Al-Sufi, Salah Al-Qaedi, Nader Al-Salahi, Ammar Al-Ahmadi, Hamed Al-Qa'ud, Anwar Al-Haj, Bilal Al-Arifi, Mohd. Al-Salahi, and Ahmed Houthan. The authorities in Hadramout arrested Sabri bin Makhashin who is still detained. Mohammad Mokri was arrested by Al-Qaeda in Hadramout in 2015, and his fate is unknown.
For the report