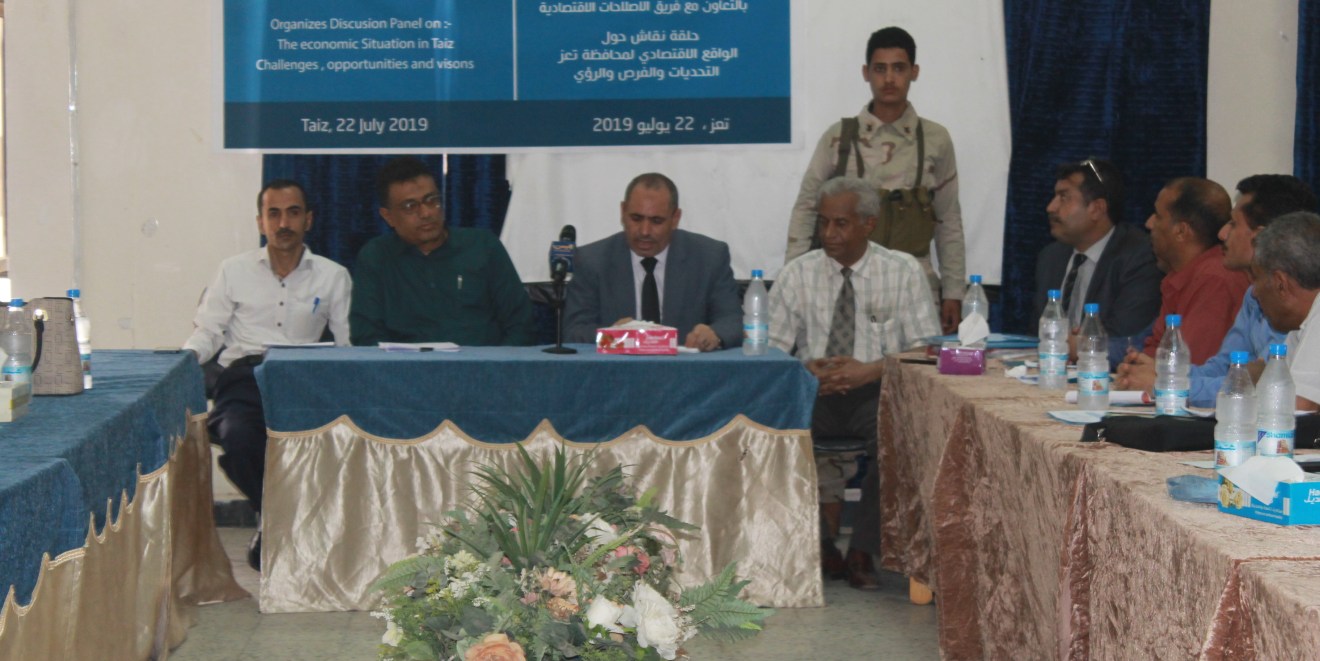 A discussion session on the economic situation and future trajectories in the governorate was held in Taiz. The session was attended by the deputy governor of Taiz, Dr. Abdulqawi al-Mikhlafi.
Organized by SEMC and Taiz Chamber of Commerce and Economic Reform Team, the session was dedicated to discussing SEMC draft study on the economic reality in the governorate based on economic environment, resources and impact of the war on economic components. Challenges and opportunities were also discussed with a view of coming up with a clear-cut vision for the future to boost the economic situation.
Businesspersons, representatives of government institutions, economists, and academics attended the session. Inaugurating the session, Dr. Mikhlafi stated that local authorities save no effort to improve the economic situation in the governorate in context of the ongoing war and siege which have divided the governorate between the government and the Houthis, a state of affairs which further exacerbated the economic crisis.
Al-Mikhlafi added that the war created a tragic reality in all aspects, pointing out that the infrastructure was severely damaged and the security system collapsed in the wake of the coup thus creating challenges to local authorities' efforts to restore things to normal, collect revenues, and resume the role of government institutions.
Mikhlafi pointed out that the economic situation in the governorate is not different from that of the country as a whole. However, it is informed by local issues including geographical divisions in the governorate, ongoing war and siege, lack of full government control of the whole governorate, and looting of most revenues by the Houthi rebels.
He concluded by underscoring the need for full liberation of the governorate as a prerequisite to creating real reconstruction prospects, strengthening the role of state institutions, and attracting investment.
For his part, SEMC representative, Mohammed Wahbani, stated that the session is one in a series of sessions targeting Taiz, Hadhramout, Mareb and Aden governorates. These sessions are aimed at discussing the economic situation of target governorates based on economic environment, resources and impact of the war on economic components, in addition to discussing challenges and opportunities with a view of coming up with a clear vision of the future.
Participants discussed the need to find solutions to major issues, developing future plans, creating investment opportunities, and facing current and future challenges, in addition to discussing mechanisms of full-partnership and chances of re-attracting investors.