A Yemeni Media Freedom Observatory (YMFO) report revealed that 12 violations of media freedom were recorded in Yemen during the months of September and October 2019. Violations varied between 2 cases of injury, 6 arrests, 2 threats, and one assault, and a one-year imprisonment sentence against Ahmed Al-Asadi, owner of 'Sahafatak' search engine and a fine of YR 500,000 for publication issues.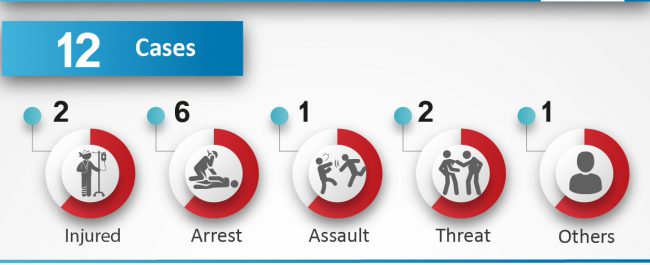 The Report highlights the exceptional circumstances lived by journalists. Illegal practices and imprisonment without trial of journalists have escalated. In Sana'a, the Houthis still refuse to release forcibly disappeared journalists detained in Houthi jails, some of whom have been detained for more than four years. Parties affiliated to the internationally recognized Yemeni government have arrested journalists in areas under its control such as Shabwa and Hadramout.

During the reporting period, the report documents 2 violations of media freedom in Sana'a, 2 in Shabwa, 1 in Hadramout, 2 in Hajjah, 2 in Al-Mahra and 3 in Taiz.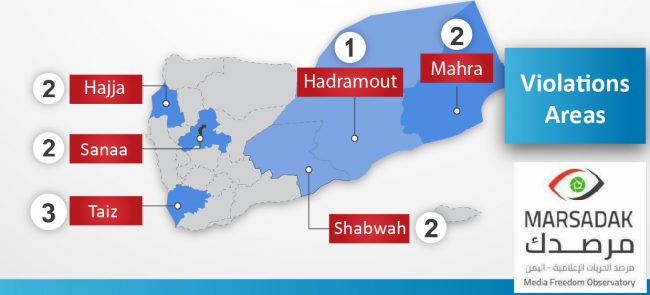 Monitored cases of violations indicate that all Yemeni provinces have become risky to journalists in one way or another. Moreover, the map of distribution of violations during September and October shows that the internationally recognized government and parties affiliated to it top the list of perpetrators of violations, being responsible for 8 violations, followed by the Houthi group which is involved in 3 cases. This is a cause for concern, urging us to call upon all parties to abide by constitutional provisions guaranteeing freedom of expression and press freedom.


في هذا التقرير ، الذي يراقب وضع حرية الإعلام ، يدعو YMFO جميع المدافعين عن حرية التعبير وحرية الإعلام داخل وخارج اليمن إلى العمل الجاد والضغط على جميع الأطراف في اليمن لاحترام حرية التعبير والإفراج عن الصحفيين المختطفين على الفور.
كما يحث YMFO جميع المؤسسات الإعلامية والصحفيين على ضمان توافقهم مع تطبيق أعلى مستويات السلامة المهنية أثناء تغطية الحروب للحفاظ على سلامتهم وتقليل حجم الخسائر البشرية والإعلامية المادية في اليمن.
YMFO عبارة عن منصة مراقبة ومعلومات تابعة لمركز الدراسات والإعلام الاقتصادي (SEMC). يسعى إلى نشر ونشر قضايا حرية التعبير في جميع أنحاء البلاد بطريقة مهنية ومستقلة ، ودعم قضايا الصحفيين على الصعيدين الوطني والدولي.
Report