The Media Freedoms Observatory in Yemen, affiliated with Studies & Economic Media Center (SEMC), concluded the first two-day media conference in Yemen on freedom of expression, on December 8-9, in which more than three hundred journalists and those interested in freedom of opinion and expression participated.
At the beginning of the conference, Mustafa Nasr, head of Studies & Economic Media Center, confirmed that male and female journalists have paid a heavy price during the past seven years. Dozens of them were killed, hundreds were injured and displaced, and some are still behind bars for more than seven years.
"This conference today is an opportunity to find out mechanisms strengthening the safety of male and female journalists, combating impunity and standing against anyone who tries to prevent the right of male and female journalists to practice their job ensured by local laws and international covenants, " Adds Mustafa
The Dutch ambassador to Yemen, Peter Dirk Hof, also stressed that perpetrators of crimes against journalists should not go unpunished. They should be held accountable so as the journalism keeps going professionally.
" It had been a long time since news about Yemen was published because the crews of international channels were prevented from working in Yemen. The Dutch journalist, when she decided to enter Yemen, spent ten months to get an entry permit," Peter said.
He added that the latest information from the experts' report confirmed that many journalists stopped working, which is a violation of media freedom, and that the efforts must be united to counter it.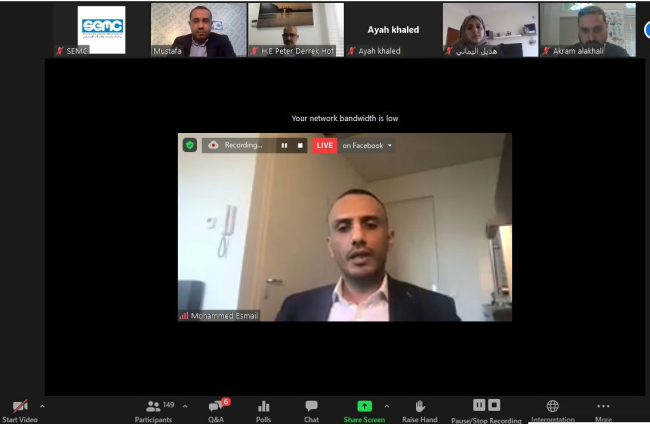 At the beginning of the first session, the CEO of Studies & Economic Media Center, Mohammed Ismail, reviewed the reality and scale of violations against the media in Yemen, stressing that after the Houthi rebels had seized a number of Yemeni cities, including the capital, Sana'a, the risks against journalists, human rights defenders and monitors, increased.
The violence reached its peak, and the areas under Houthis' control have become completely devoid of independent and partisan media, and the media diversity that Yemen was enjoying in many of its cities.
"Many journalists in Yemen have been no longer able to easily move around and convey the facts away from influence, polarization and fear of oppression, which led to the spread of rumors and fake news that fueled the conflict and deepened the state of societal division, " says Mohammed.
For his part, journalist Abdul Bari Taher confirmed that the situation of the media in Yemen has become catastrophic and journalists are subjected to a comprehensive violation because of their media work. He called on the international community to stand by the journalists at this stage.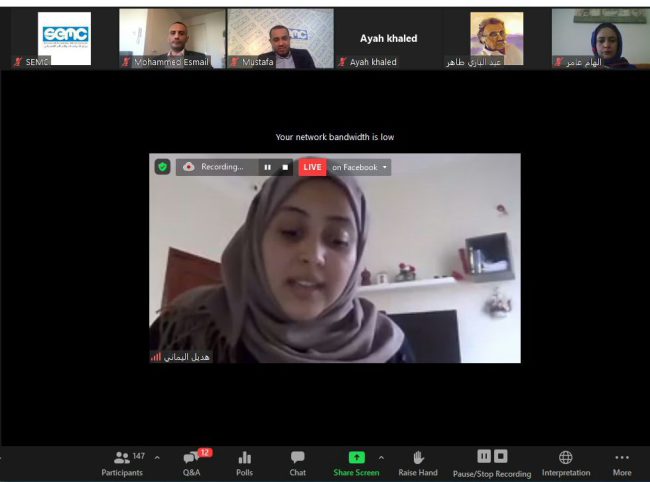 Al-Jazeera correspondent, Hadeel Al-Yamani, also reviewed her media experience and suffering while covering the news during the armed conflict. She provided many tips that journalists must adhere to during their field work.
The lawyer of journalists detained in Houthi prisons, Abdul Majeed Sabra, also spoke about the opportunities of legal protection for journalists, and about his experience in defending them. He said that he has seen the files of journalists and hasn't found any accusation punishable by law, and this indicates that journalists are subjected to practices unjustly arbitrary.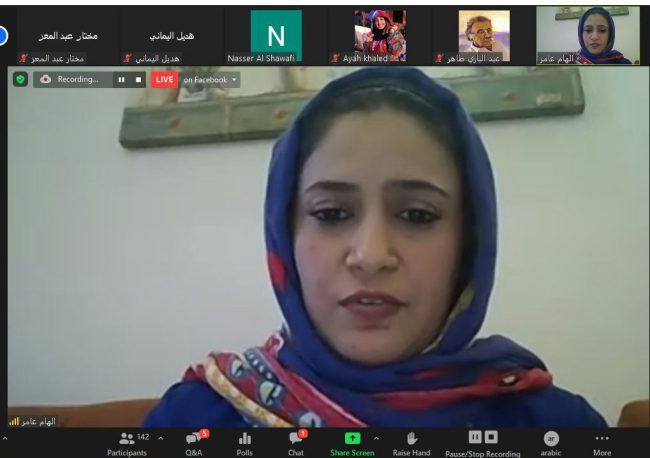 In the second session that the conference devoted to electronic violations, the journalist Elham Amer spoke about electronic bullying and its impact on Yemeni female journalists. She attributed this to several cultural and religious factors, as well as societal customs and traditions.
" Because the perpetrators of this violence use the Internet as a means to reach their goals, violence follows female journalists from their workplaces to the home, which may affect their work and production. These practices can also cause psychological harm, occupational damage and sometimes physical violence, " adds Elham.
The conference concluded its first day's sessions with the expert in the protection and security of information and combating cyber and information crimes, Mukhtar Abdel Moez, who spoke about the types of cyber-bullying and ways of protection from these attacks, which are punishable by law.
In the second day's session, the Co-Director of the Human Rights Organization, Cartara Ilja Van Ron, reviewed the psychological trauma of journalists and self-care. He has given many tips that the journalist and everyone exposed to psychological trauma should adhere to and ways of treatment.
" A person exposed to shock cannot treat himself, but rather asks for help from someone to treat him kindly and carefully, whether he is a specialist or a trusted friend," says Ron.
The conference concluded its sessions with the international expert in digital protection, Jilo Kotropi, on the topic of digital security and threats to journalists on the Internet.
The expert Jilo reviewed a number of protection programs and applications that journalists must have to protect their information from hacking.
The conference included a number of discussions and interventions by many journalists, activists, and those interested in freedom of opinion and expression in Yemen. They stressed the importance of the role of the international community and human rights organizations in defending journalists and pressure to protect journalists.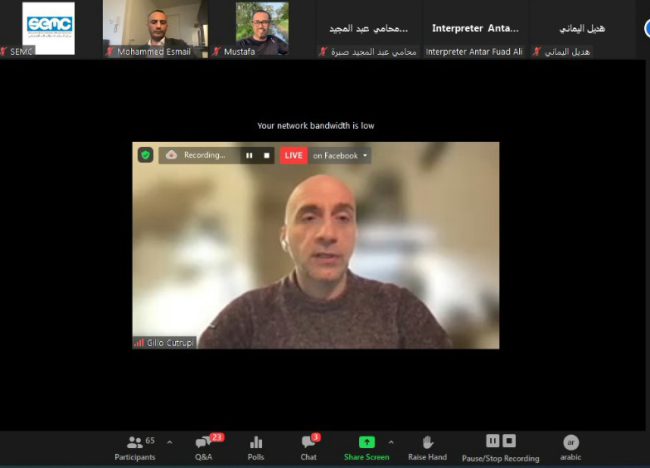 A number of journalists also reviewed their experiences and the violations they were subjected to and are still suffering from their psychological effects. The psychological expert has given them solutions to get out of these traumas and ways of treatment.
The Media Freedoms Observatory in Yemen is a monitoring and information platform, which aims to publish everything related to freedom of opinion and expression in various Yemeni regions in a professional and independent manner, in addition to analyzing and advocating for journalists' issues at the local and international levels.