The Yemeni Media Freedom Observatory announced that 100 cases of violations targeting Yemeni journalists and media institutions were documented during the first half of 2020. Documented cases ranged from killing, injury, kidnapping, assault, threatening, and targeting of media organizations.
The YMFO expressed its condemnation of the continued arbitrary practices against the media by the various parties to the conflict in Yemen. The media scene has increasingly witnessed incidents of repression and violations, and the issuance of death sentences against journalists, as well as the fact that perpetrators commit such infringements and violations with impunity.
Violations included two cases of murder, 4 death sentences, 5 kidnappings, 1 injury, 7 arrests, 3 assaults, 8 threats, 4 suspensions from work, 5 violations targeting media institutions, and 61 other cases.

According to the report, the Houthis (Ansarullah) top the list of perpetrators of violations targeting journalists. The H were responsible for 61 of the documented cases of violations, whereas 28 violations were perpetrated by parties affiliated with the internationally recognized Yemeni government, 2 cases by parties affiliated with the Southern Transitional Council (STC), 7 cases by unidentified perpetrators, and 2 cases of abuse were perpetrated by influential individuals. Concomitantly, the Houthi group still refuses to release 16 journalists, some of whom have been detained for more than five years, violations of media freedom continue to be rampant in areas controlled by the internationally recognized Yemeni government.

The report documented 37 violations in al-Jouf, 20 cases Sana'a, 16 cases in Taiz, 6 cases in Hadramout, 8 cases in Marib, 6 cases in Aden, and 2 cases Ibb, while a single was perpetrated in each of al-Bayda, Hodeida, Socotra, Shabwa and Lahj.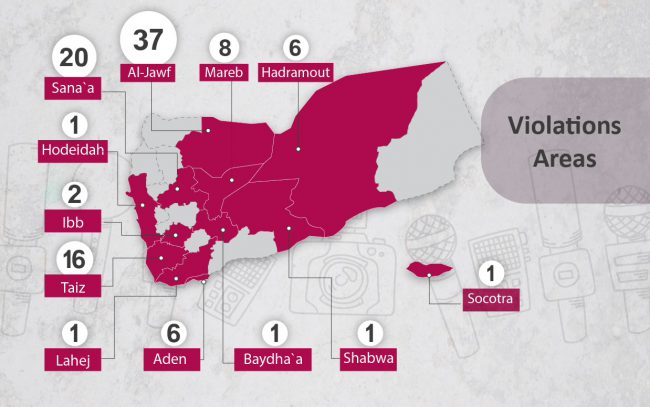 Among the most important violations documented during the reporting period were the killing of cameraman Nabil Al-Qu'aiti and Badil Al-Buraihi, issuing death sentences against 4 journalists, the kidnapping and torture of journalist Aseel Suwaid, and the displacement of 25 journalists from al-Jouf governorate following the Houthi takeover of al-Hazm district.
YMFO renews its call to all conflicting parties in Yemen to immediately stop all forms of targeting journalists and social media activists, and stresses the need to hold the perpetrators of those violations accountable for crimes that do not lapse by statute of limitations.
YMFO is a SEMC-affiliated monitoring and information platform that aims to publish and professionally and independently disseminate all information on freedom expression in Yemen, as well as analyze journalists' issues and support their cause at the local and international levels.