Some 80 journalists, including women, have over the past few months taken part in a fake news detection program in the provinces of Taiz, Aden, Mareb and Hadhramaut.
The scheme, undertaken by the Studies and Economic Media Center ( SEMC) in collaboration with the US embassy's cultural and media attaché in Yemen, was recently wrapped up with a training course in Aden, and hailed as a quantum leap in terms of building journalists' capacities to fight disinformation and fake news.
Yemeni journalists acquiring fake news and misinformation detection skills acquired would certainly contribute to boosting confidence in the media, said Mustafa Nassr, Chair of SEMC, noting that the crisis gripping the country nowadays is further exacerbated by rumor-mongering and spin-doctoring.
Nassr said throughout the program, the Center contracted Yemeni and Arab journalists with a view to bolstering journalists' capabilities to spot misinformation through special techniques and tools designed for the purpose.
The Public Affairs Officer at the U.S. Embassy in Yemen, Zennia D. Paganini spoke at the opening of the workshop in Aden. " I am very pleased to partake in the inauguration of the training workshop in Aden, which aims to boost journalists' skills in spotting fake news and thus tackling same with high professionalism," she said.
She added, " The importance of this workshop lies in the fact that it comes at a time where fake news, rumors and disinformation are spreading on a wide-scale on both traditional and new media platforms."
During the training, trainees were offered information and techniques buttressing their ability to unmask misinformation.
" This course made a big difference in my career. I have long been looking for this kind of training to learn about fact-checking tools and methods. This workshop has certainly met these needs, I have become familiar with video and image verification techniques and able to uncover fake news and misinformation," said Ibrahim Sa'eed, one of the trainees.
Trainee Samah Amdad said the function was highly significant, as it provided the trainees with new skills and techniques that enable them to authenticate information and divulge disinformation, including by cross-checking content on both traditional media and social networks via digital tools, such as those used to fact-check images, videos and content.
One other journalist, Alia Fuad, said, " Indeed, we needed a training course, just like this one, especially as rumors and misinformation are widespread on social media platforms. This workshop will go a long way in helping us cross-check information before publishing it,".
" The workshop, too, enabled us to learn new techniques for spotting fake news, which will be useful for us as journalists. So, we are grateful to the organizers for holding this workshop that meets the needs of journalists." She noted.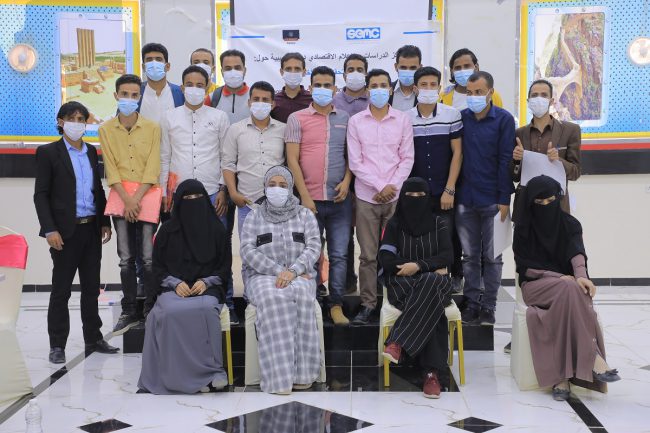 SEMC is an NGO working towards a successful and transparent Yemeni economy by raising awareness of economic and development issues, consolidating transparency and good governance, and creating professional media.